About Us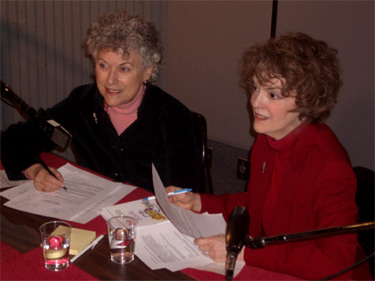 Sandra Burt and Linda Perlis produce and host the award-winning weekly radio program, Parents' Perspective, interviewing guest experts on a different child rearing issue each week.
Burt and Perlis are also the authors of Raising a Successful Child: Discover and Nurture Your Child's Talents (Ulysses Press, 2007), Washington, D.C. with Kids, 5th Edition (Fodors, 2010), and Parents as Mentors (Prima, 1999).
Burt and Perlis have spoken and written on child rearing issues for more than a decade, and have been involved with numerous parent advocacy groups.
Sandra Burt was an educational consultant specializing in school placement decisions for children in grades K-12. Formerly a college English instructor, and longtime board member of the Parents Council of Washington, she was also an editor of Parent to Parent, a resource book for families. She earned her B.A. from Mt. Holyoke College, her Master of Arts in Teaching from Yale University, and pursued post-graduate studies in Human Development at the University of Maryland. She is married, the mother of four grown sons, and has five adorable grandchildren.
Linda Perlis worked as a television producer on the long-running "Panorama" show with Maury Povich (Channel 5, Washington, D.C.) and on special programs for WJLA (Channel 7, Washington, D.C.). She was an independent producer of corporate, association, and commercial videos. A former high school English teacher, she served on the Advisory Committee on Counseling and Guidance for the Montgomery County Board of Education. With Sandy, she lectures and writes on parenting issues. She received both her B.A. and M.A. in English from the University of Maryland. She is married, the mother of three grown sons, and the grandmother of six precious grandchildren.
Parents' Perspective, Inc.
Current Board of Directors
Sandra Cass Burt, President
Linda Sacks Perlis, Vice President and Director
Deborah D. Gordon, Board Member
Barry R. Perlis, Board Member
Sheila Culang, Board Member
Alice Gordon, Board Member
Gail Moskowitz, Board Member
Marc Nemiroff, PhD, Board Member